Opening of the new V848 airway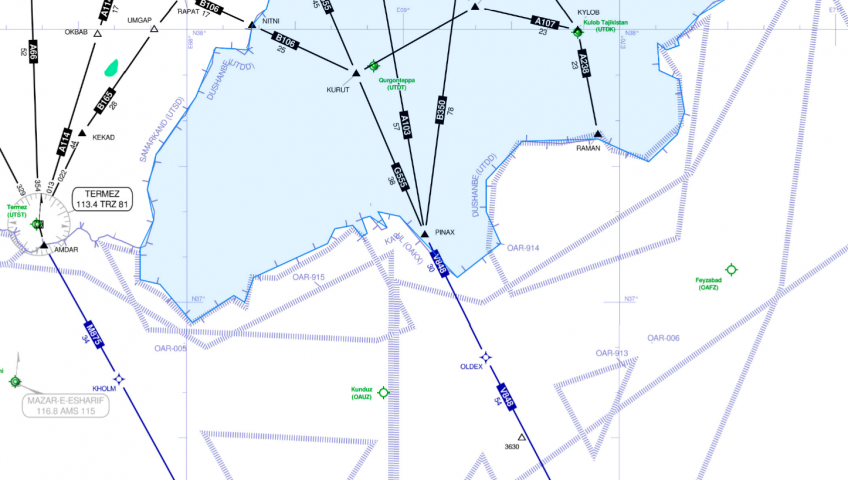 Republic of Tajikistan has 35 air corridors with a certain countries. Three of this air corridors passing through
The Republic of Tajikistan has 35 air corridors with neighboring states. Of these, three, passing through the points EGPAN, RAMAN, and FIRUZ connect the republic with the Islamic Republic of Afghanistan.
Starting from June 22, 2017, with the efforts of the "Tajikairnavigation" State Unitary Enterprise, after intensive and purposeful negotiations with Afghan colleagues, another air corridor for flights of civil aircraft in the upper airspace - V848, passing through the PINAX point became available.
It should be noted that the processing of applications and clearance for the use of airspace for transit flights is issued by ATCO of the Civil Sector of the Main Center of SUE "Tajikairnavigation" within 1 hour, which indicates good operability and profitability use of RT airspace by the operators.
The radio navigation equipment of the enterprise allows you to see and hear aircraft hundreds of kilometers away from the republic, which is quite favorable and essential factor for ensuring safety of flights towards the Islamic Republic of Afghanistan, where there are difficulties in radar flight control.
Highly qualified air traffic controllers of SUE "Tajikairnavigation " helped their Afghan colleagues more than once in the prevention of dangerous approach of aircraft on the adjacent territory.
The V848 air route passing through the PINAX point has a length of 246 km along the territory of the Islamic Republic of Afghanistan and unlike the M881 airway passing through the EGPAN point, it is safer because of the low terrain.
The V848 air route is a shorter route for flights from the south to the northeast and "cross polar" flights, which is beneficial for airlines in three respects: saving flight time (airplane resources), saving fuel and reducing harmful emissions into the atmosphere.
Nowadays known airlines such as Air Canada, Air Astana, Air India and others use the V848 airway quite successfully.